We will show you how to reach the guesthouse.
It is close to Fukuoka airport & JR Hakata station.
Access to "Itoshima Guest House Kotonoha"
Kotonoha's position
The guesthouse is located in front of JR Chikuzen-Maebaru station. Please refer to the map below.
↓ The route from JR Chikuzen-Maebaru station to Kotonoha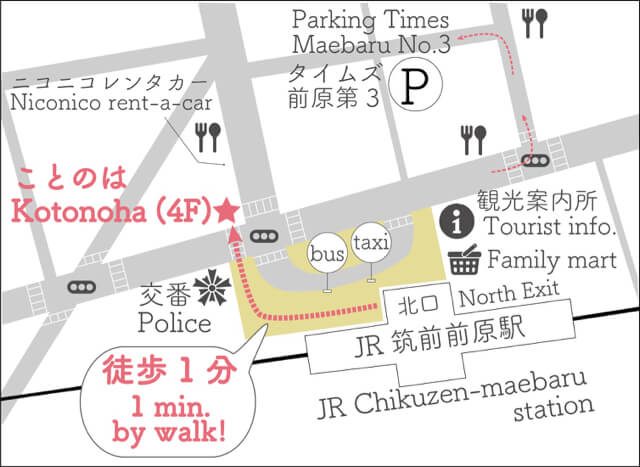 It takes 1 minute by walk from the north exit of JR Chikuzen-maebaru station.
↓ It is the 4th floor of the building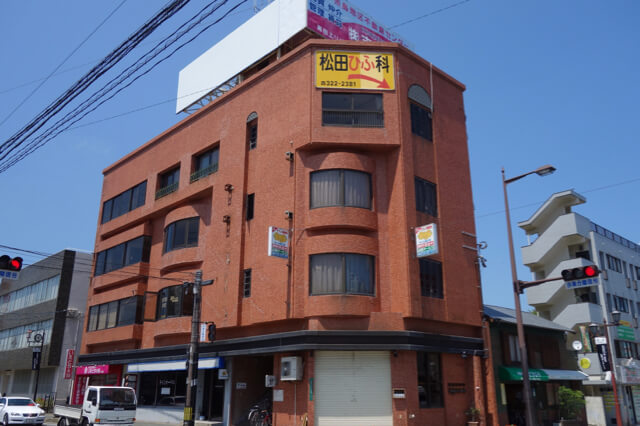 Train: Access from Fukuoka airport & JR Hakata station
From Fukuoka airport and Hakata station, the subway line and the JR line interact with each other, so you can arrive at JR Chikuzen-Maebaru station by one train without changing trains.
It is very convenient!
Please get on the train for "Chikuzen-Maebaru" or "Nishi-Karatsu".
↓ Distance relationship with Fukuoka Airport & Hakata Station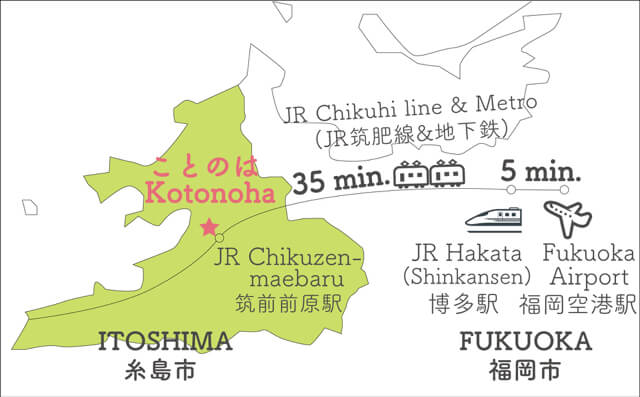 The time required on the train to JR Chikuzen-Maebaru is as follows.
About 35 minutes from Hakata Subway Station
About 40 minutes from Fukuoka airport subway station
Please use Japan Transit Planner for train schedule.
Express Bus: Access from Hakata Station Bus Terminal & Tenjin
The Showa bus operates the high speed bus "Ito-shima-go" bound for Itoshima.
"Maebaru" stop is the nearest to our guesthouse.
From Hakata, even from Tenjin, the fare will be 640 yen per way.(As of 2018)
It comes to Itoshima in nonstop, it is very comfortable!
The required time on the express bus to the "Maebaru" stop is as follows.
About 50 minutes from Hakata bus terminal
About 40 minutes from Tenjin 3-chome
Please see the bus time table below.
Hakata Bus Terminal Map
Hakata Bus Terminal is directly connected to JR Hakata Station.
The buses leave from the 3F floor of the terminal.
Tenjin 3-Chome Bus Station Map
There is a bus stop of "Showa bus" at Tenjin 3-chome (Tenjin Center Building Nomura Securities).
Access from Tenjin Subway Station is also relatively good.
SUNQ Pass
In addition, you can come to Itoshima using "SUNQ Pass."
It allows you can take unlimited ride to the buses in Kyushu and the northern Kyushu bus.
We recommend for people who consider traveling around Kyushu by bus.
Cars: Access from Fukuoka direction
From Fukuoka city, you can come to Itoshima by National Route 202 or a charged Nishi Kyushu Expressway (Fukuoka Maebaru Road).
The time required for driving between "Fukuoka Airport – Chikuzen-Maebaru" is as follows.
National Route 202 · · · about 60 minutes
Nishi Kyushu Expressway · · About 35 minutes
Private parking
We have the private parking for only 1 car (No charge & reservation system).
Name:No.9 parking lot of Maebaru north parking
Address:1-6-28, Maebaru-chuo, Itoshima, Fukuoka
(※It takes only 1 minute by walk to Kotonoha!)
Parking Map:
https://goo.gl/maps/RKTsr8zEduj
Charge:For free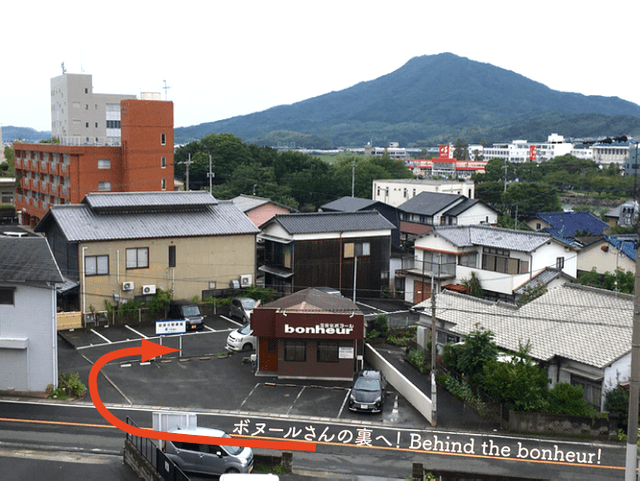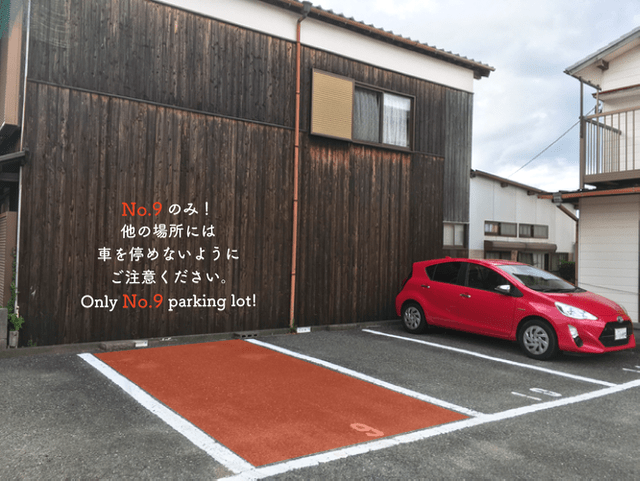 The parking space is only No.9 parking lot.
Please don't park in other places.
Nearest coin-operated parking
When you can't take our parking lot, we suggest you the nearest coin-operated parking below.
The maximum price of 24 hours is 500 yen and it is very profitable.
Times Maebaru 3rd
(2 minutes on foot to Kotonoha!)
Address: 2-4, Maebaru-chuo, Itoshima, Fukuoka
Fare: 200 yen (per 1 hour)
Maximum charge : 500 yen (24 hours after parking)
Parking Map:
https://goo.gl/maps/3h5ae4Sjen42
It is also good to rent a rent-a-car at Fukuoka airport.
Information of guesthouse Kotonoha
Name: Itoshima Guesthouse Kotonoha
Adress: 2-1-21-4F, Maebaru-chuo, Itoshima, Fukuoka
Map: https://goo.gl/maps/cXkycpAGnGs
Phone: +81-90-7291-0767
Mail : itoshima.kotonoha@gmail.com
Facebook : https://www.facebook.com/itoshimakotonoha
HP : https://itoshima-guesthouse.com
Twitter : https://twitter.com/itoshi_kotonoha
↓Reservation to stay in Kotonoha