Hello!

We are Kana & Nogi who are the owners of the Guest house Kotonoha in Itoshima, Fukuoka.
Itoshima is famous for delicious gastronomy & beautiful nature in Japan.

Thank you for your visiting our site.
There is a cafe called Kafuwa Coffee near Marutaike park in front of JR Chikuzen-maebaru Station.
Enjoy fresh home roasted coffee in a cozy space!
There is breakfast menu, too, and it is good use throughout the day.
Spacious and calm in the store
Appearance
The exterior of the shop is a clean atmosphere based on white.
There is also a parking lot, it is convenient to stop by while on Itoshima Drive.
Interior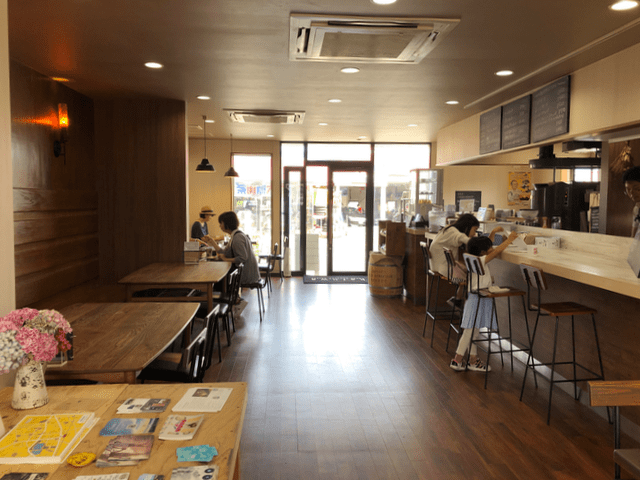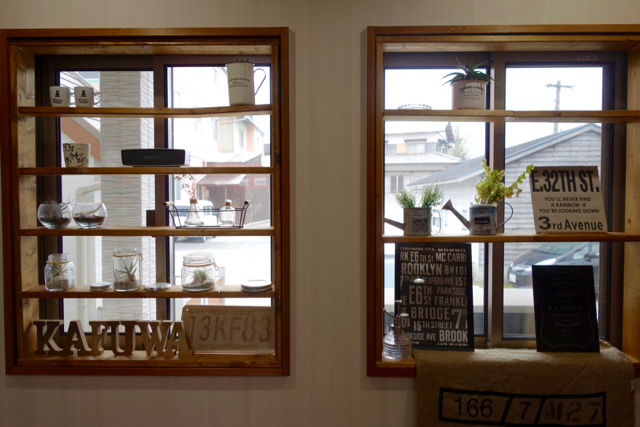 The small things on the shelf are also cute.
Menu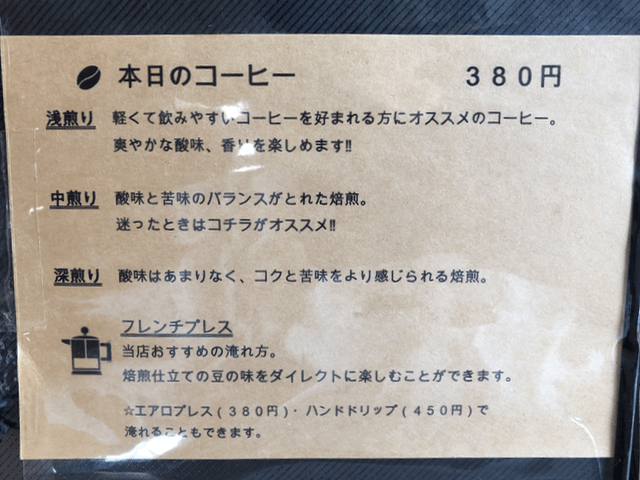 At Kafuwa Coffee, today's coffee is available in three different ways.
Light roast, Mid roast, Deep roast.
Some of them are original blends, while specialty coffees are available by region.
These are daily and weekly change, so you can come and see new flavors whenever you come.


The light roast has a little acidity, and the deep roast is felt strongly.
The middle roast is in the middle.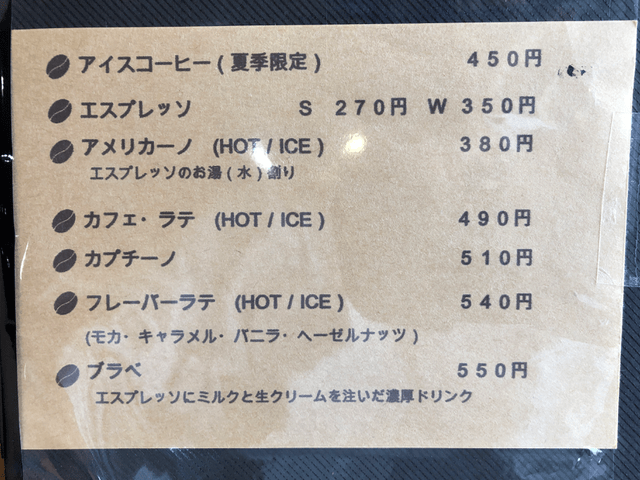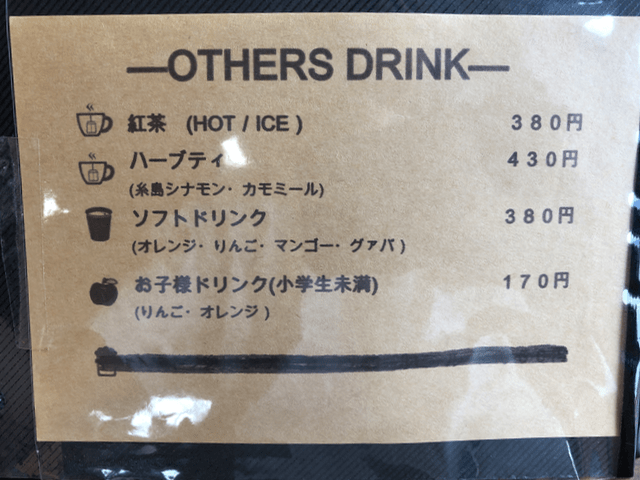 In addition to coffee, there are also tea, Itoshima herbal teas and fruit juices for children, so you can use it casually for both people who can't drink coffee or with their children.
Meal Menu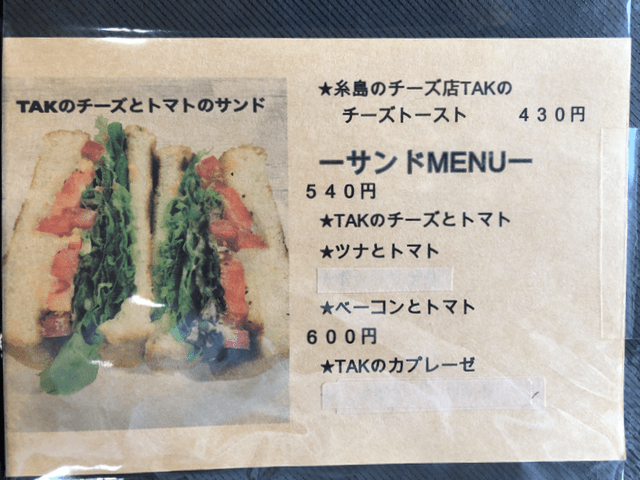 The menu is also substantial!
The sandwich using cheese of the cheesemaker "TAK" in Itoshima.
It is excellent.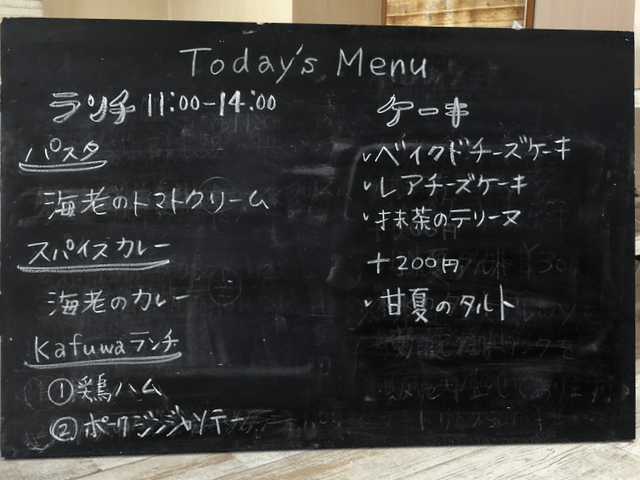 There is also a daily Kafuwa lunch, so you can use it for lunch!
Dessert Menu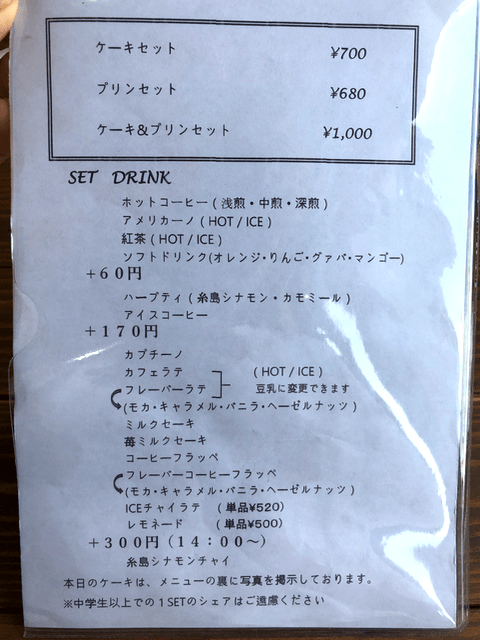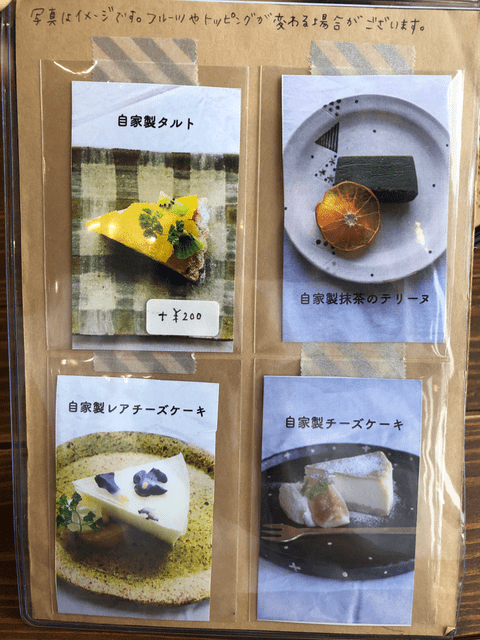 After lunch, it's time for dessert.
Kafuwa Coffee's dessert is homemade!
There are a variety of cakes that are easy to eat with a low sweetness!
Great coffee tickets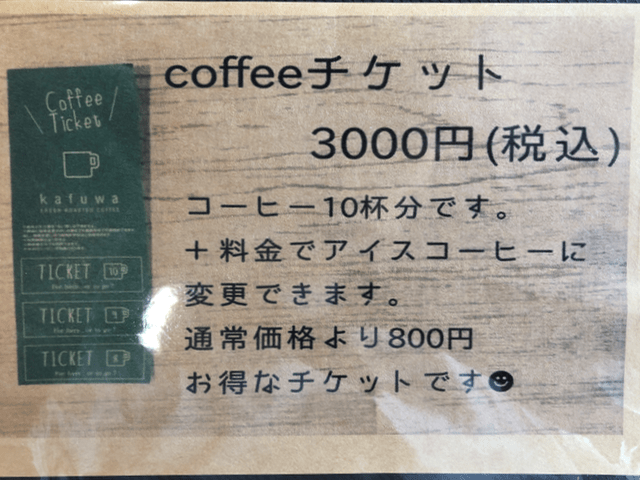 We recommend this "coffee ticket" if you want to be regular customer .

It is a great ticket that you can drink delicious coffee for 300 yen a cup.
It's usually 380 yen per drink, so it's good at 80 yen!
The secret of fresh coffee!
Normal cafe can't prepare as many as three kinds of coffee today.
The reason is that the quality becomes bad before it sells out if it makes it in such a large quantity.

Kafuwa Coffee uses a special roaster called jet roaster to provide as many as three types of coffee.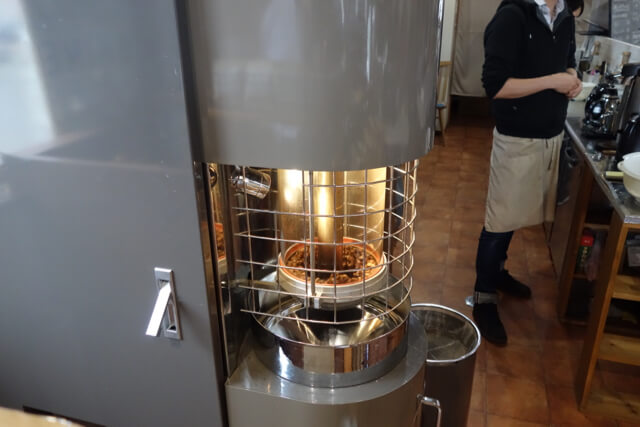 This roasting machine is expensive, but it can roast coffee beans in small quantities in just a few minutes.

Meals & Homemade Cakes
The food menu is also a feature of Kafuwa coffee.
Recommended is a sandwich made with the cheese of Tak.
A sandwich with TAK cheese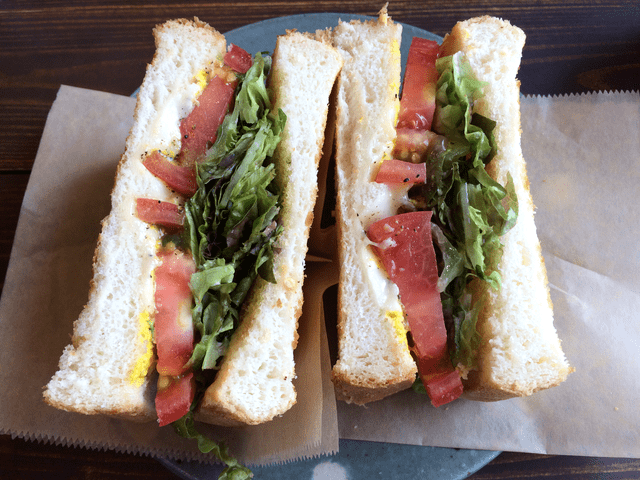 A sandwich of Itoshima vegetables and TAK cheese is definitely a delicious match for coffee!!
Kafuwa Lunch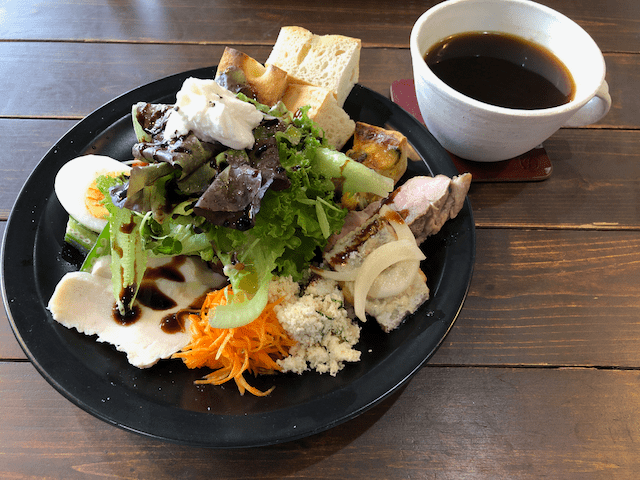 Kafuwa lunch is a good amount, and vegetables are also served.
There's a lot of hiding under the green salad.
It is about 1000 yen with coffee, so it is a very satisfying lunch!
Cake Set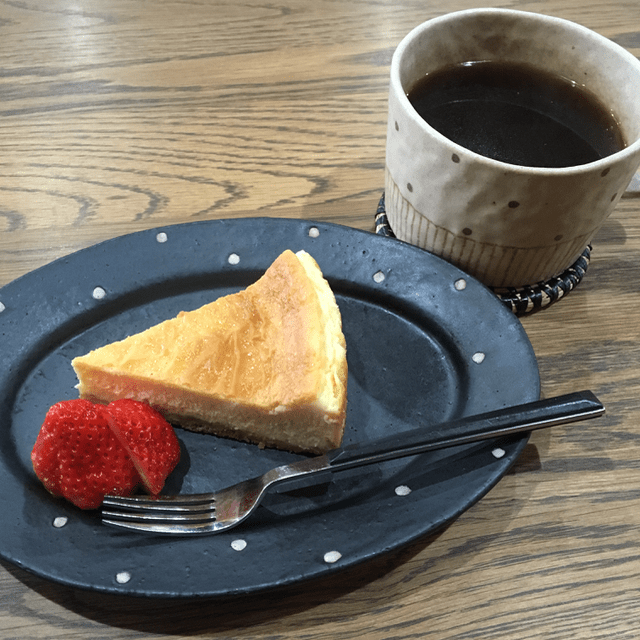 Handmade cakes!!
It changes daily. I recommend it with a coffee.
Morning Menu
Time between 9:00-10:30 is breakfast time!
There is a morning set, too, and it is 680 yen with the cheese toast of TAK, salad and morning coffee.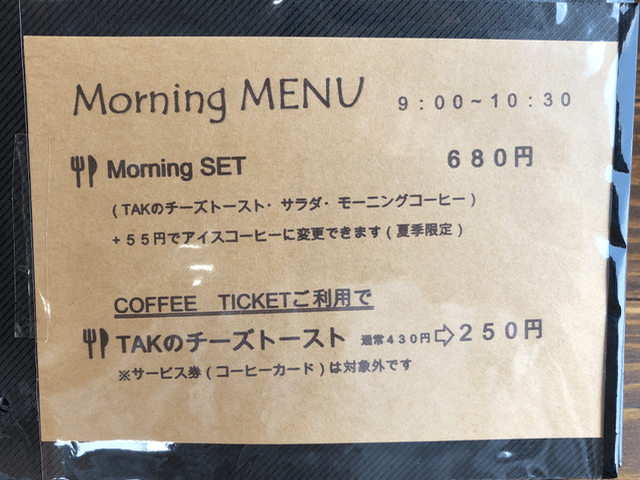 Morning Set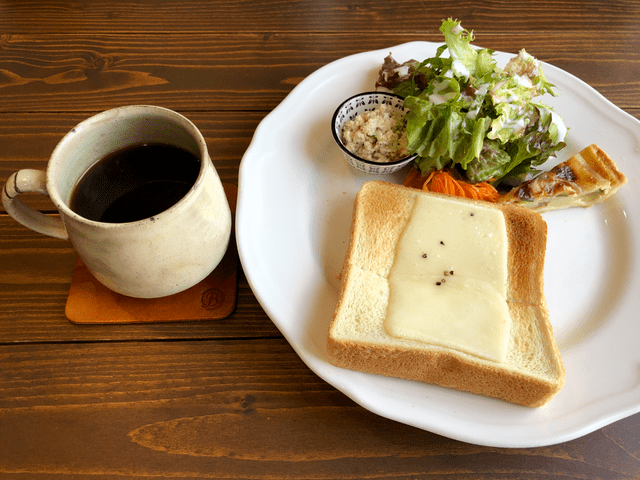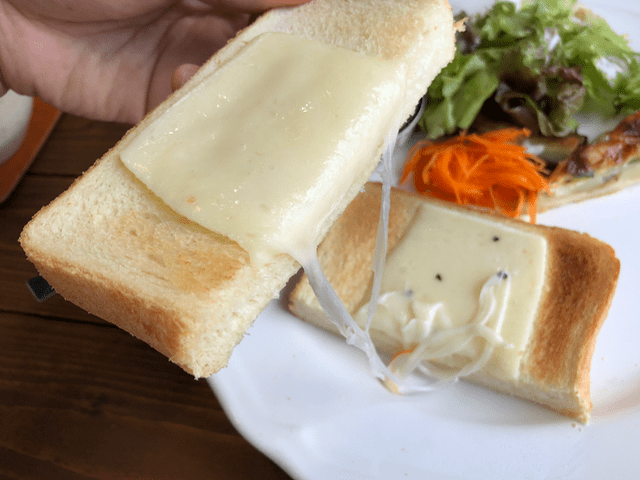 I can't stand the rich cheese!
It is a healthy breakfast with a lot of vegetables!
TAK Cheese Toast + Coffee Set!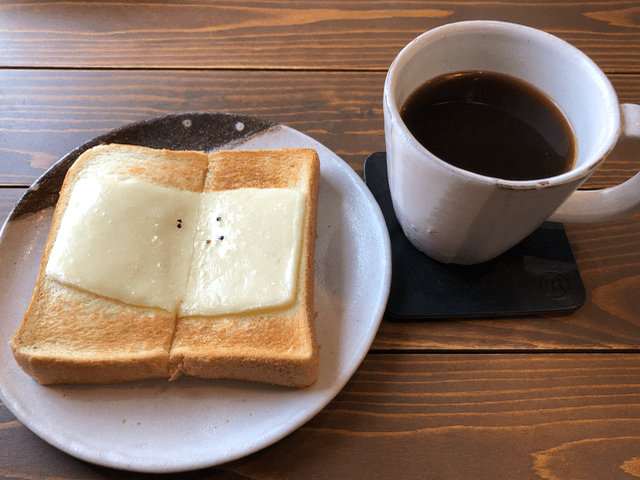 If you don't need a salad, we recommend a coffee ticket for a morning set of TAK cheese toast coffee.

A total of 550 yen for one coffee ticket (300 yen) plus 250 yen, you can enjoy the above menu.
Normally, TAK cheese toast is 430 yen separately, so I think it's really good.
Roasted coffee beans are also sold!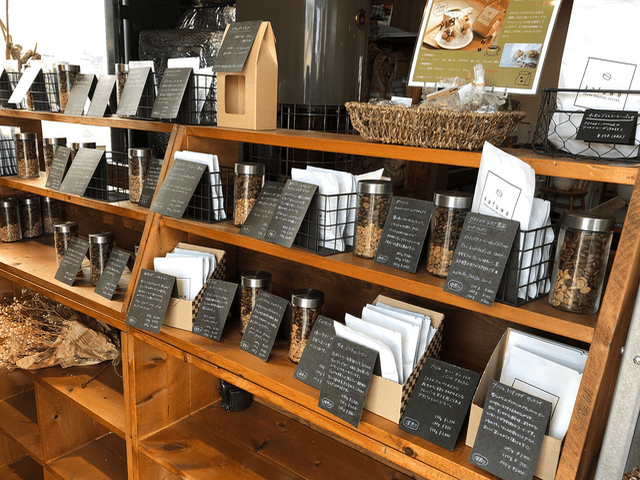 Kafuwa Coffee also sells coffee beans.
With a jet roaster, it can roast it in a few minutes.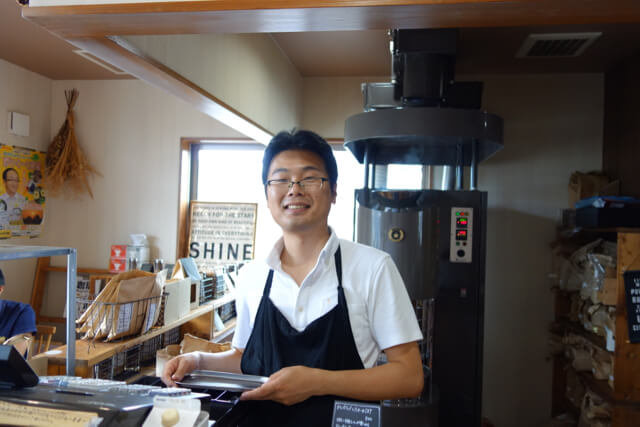 There aren't many cafes available from Morning in Itoshima, so it's very valuable.
It is also within walking distance from JR Chikuzen-maebaru Station.
So it is recommended for tourists!
Cafe information
| | |
| --- | --- |
| | (*Information as of June 2019) |
| Name | Kafuwa Coffee |
| Opening Hours: | Weekdays/ 9:00-19:30 |
| | Saturdays, Sundays and holidays/ 9:00-18:00 |
| | (*Morning 9:00-10:30) |
| Closed: | Irregularly |
| Smoking or Non-smoking: | Non – smoking |
| Parking: | Available |
| Phone: | 092-335-1104 |
| Hp: | https://www.facebook.com/Kafewacoffee.itoshima/ |
| Address: | 1-11-15 Maebaru-Nishi, Itoshima City |
| Map: | |
We will enjoy Itoshima tomorrow too!!

— The guesthouse to connect the world and Japan —
Itoshima Guest house Kotonoha
(糸島ゲストハウス 前原宿ことのは)

We welcome your reservation to stay.
Thanks!