Hello!

We are Kana & Nogi who are the owners of the Guest house Kotonoha in Itoshima, Fukuoka.
Itoshima is famous for delicious gastronomy & beautiful nature in Japan.

Thank you for your visiting our site.
One of the ways to enjoy Itoshima is to have breakfast at a restaurant by the sea.
You feel very luxurious when you eat a special breakfast with fresh vegetables from Itoshima while looking at the blue sea.
A famous one of Itoshima breakfast is "Bakery Restaurant CURRENT", which was opened in 2007.
This is a cafe with a bakery.
A great location with a view of the sea from the high ground
The current is located on the north coast, famous for surfing.
There is plenty of parking space available, but it may be all filled at lunch on holidays.
In addition, there is also a paid parking lot for beach goers next door, so in some cases you can use it.
Appearance
On a hill overlooking the sea, palm trees make you feel like in a tropical country.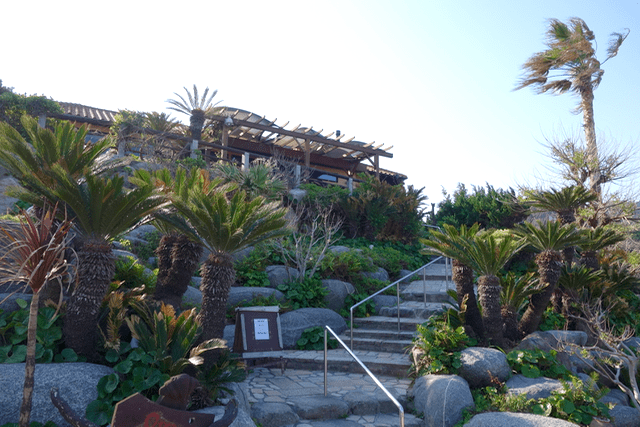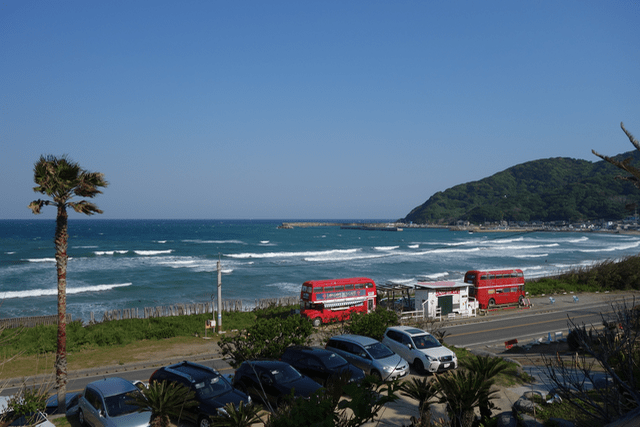 In front of you, you can see the London Bus Cafe, which is one of the best Instagramable spots on Itoshima.
If you put your hands on the fence on the terrace and listen to the sound of the waves, you find yourself more and more calm.
It is a great relaxing point.
Interior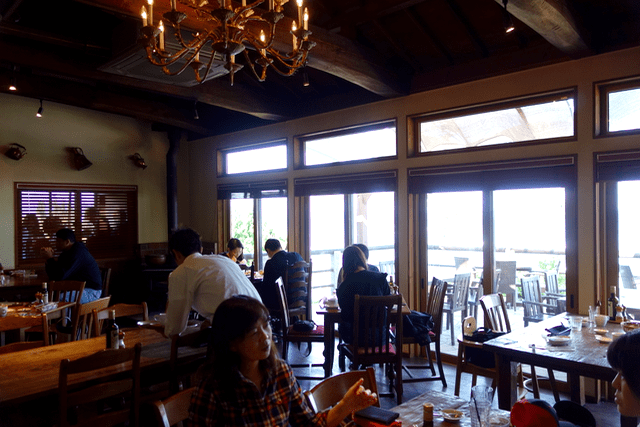 The interior is decorated with a lot of calm wood, and there is a little sense of luxury.
The table and chairs are very stable, so you can eat comfortably.

There is a terrace in addition. If it is a sunny day, I really would like to recommend to be seated!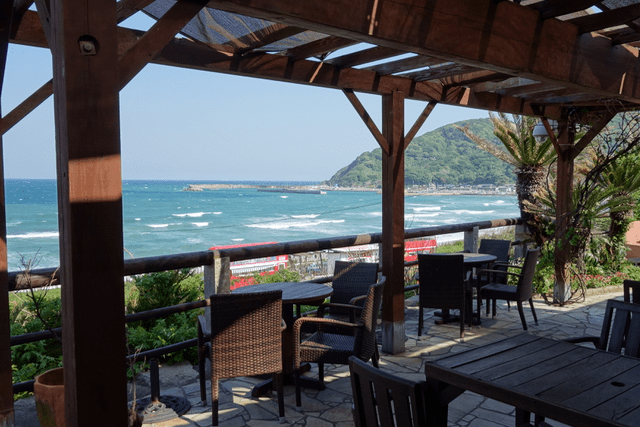 Blue Sea!
It is full of resort feeling.
Breakfast full of ingredients from Itoshima
Breakfast Menu
There are basically three types of breakfast.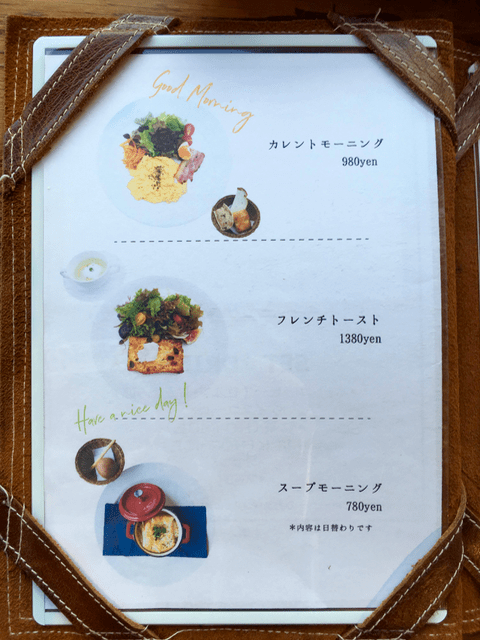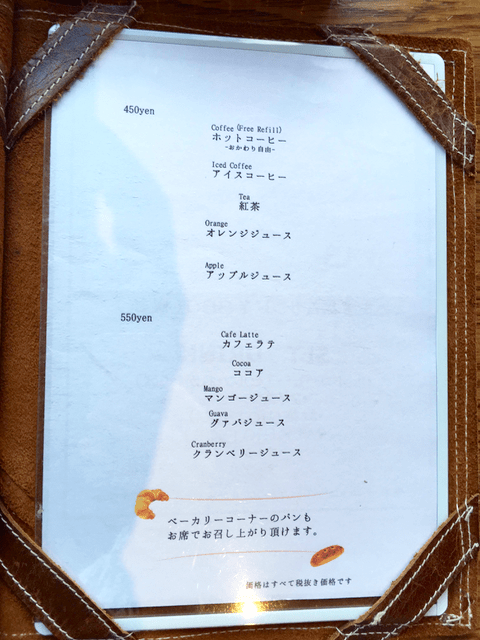 The recommendation is the "Current morning" after all.
There are three kinds of fresh bread.
Drinks are another order, but coffee is free refill, so if you have time and want to relax, we recommend to have a coffee.

There is a bakery corner in the current, and you can eat at your seat after you buy it.
In our restaurant, We use the ingredients from Itoshima as much as possible.
Vegetables, bacon and sausage of "Shima smoke house" of the best taste with carefully selected pork, spices, sea salt, minimum additives. Sure, preservatives and coloring are not used.
"Tetsuya to Noriko's egg" of low cholesterol and strong sweetness, etc.

https://www.bakeryrestaurantcurrent-2007.com/menu/
Their commitment to local produce is so nice.

I think that the influence of the Current was so large that "local production and consumption" became the norm in Itoshima.
Current Morning
As soon as you ask for the Current morning, the cranberry juice is brought.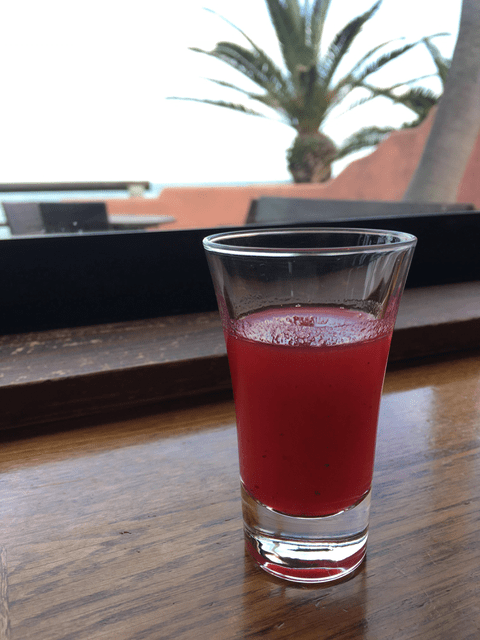 Slim glasses and red color make you feel like you're drinking a cocktail in the morning.
If you come with a lover or a friend, you can say, "Cheers!"
The morning set is carried.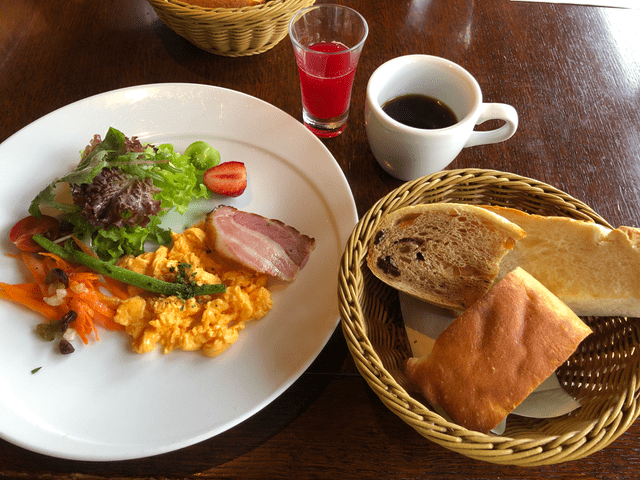 It's a good amount of breakfast.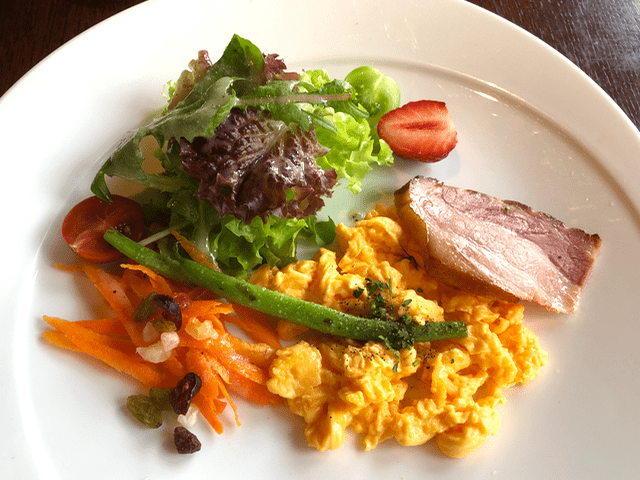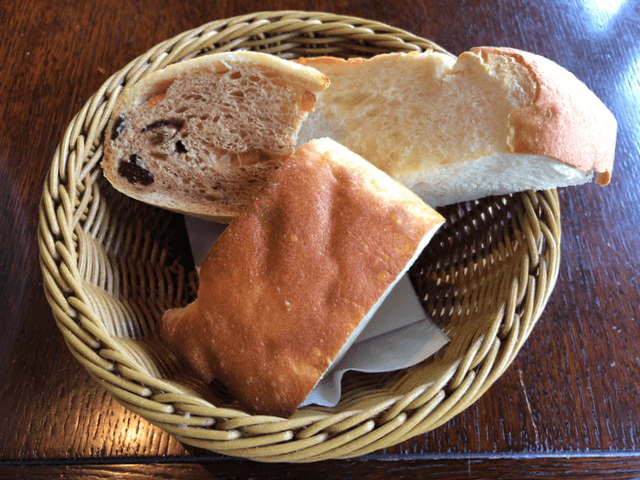 Not to mention vegetables, it is from Itoshima.
Some vegetables are purchased directly from certain farmers.

The crispy and very sweet flavor of carrots makes your eyes round.

Scrambled eggs also have a fresh and powerful taste of the eggs.
The bacon of Shima Smokehouse is good salty and has a nice accent.

Fresh bread is also soft and delicious.
It is a moment of bliss from the morning.
Soup Morning
If you can't eat so much in the morning, I think soup morning is good.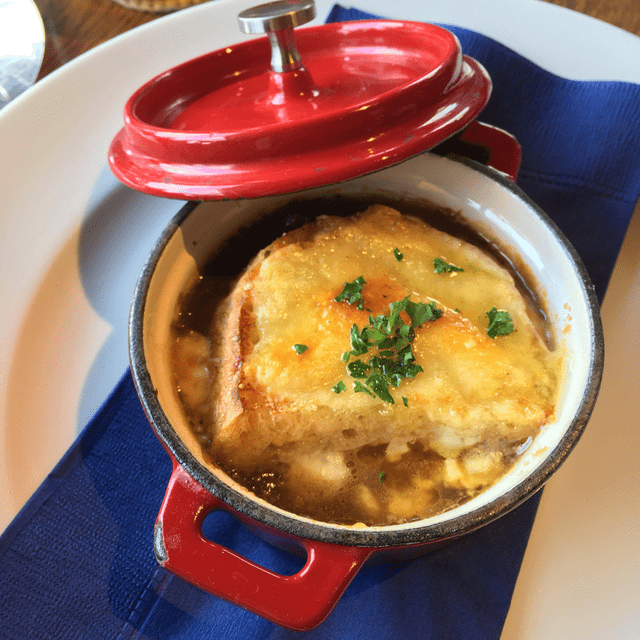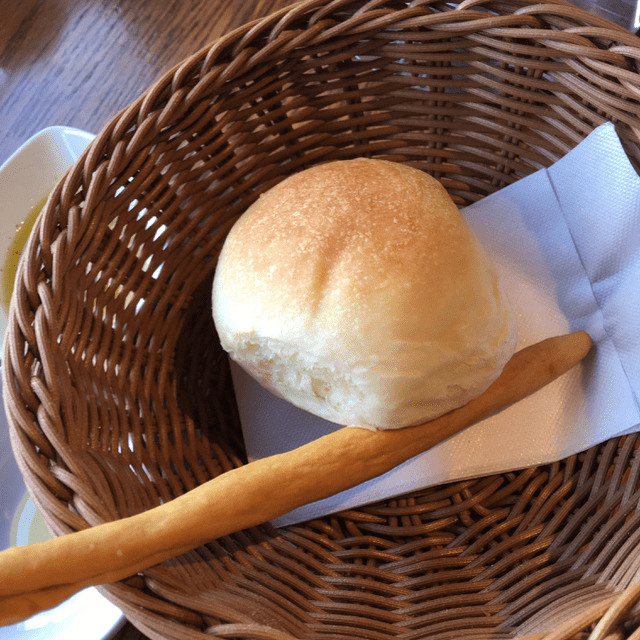 It is a set of two kinds of hot soup and bread in the pot made of enamel.
Homemade jams and drinks
In the current morning, it's also a fun time to wonder how to eat bread♪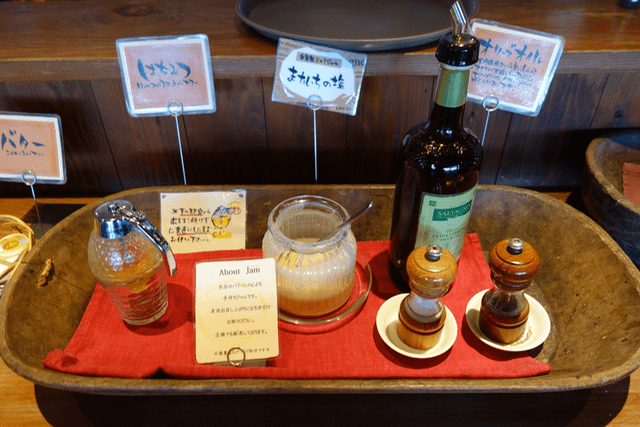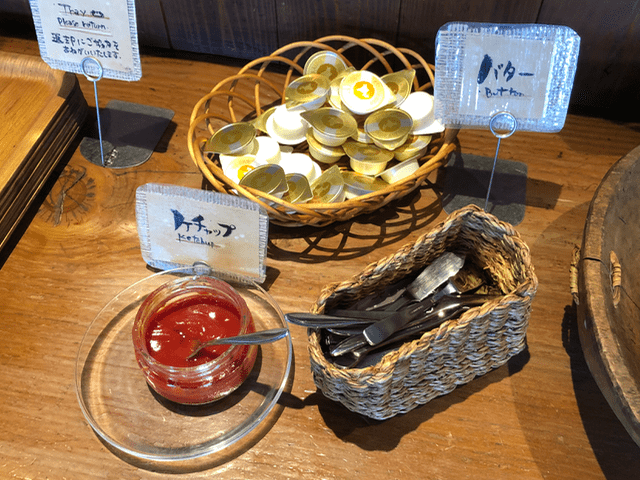 There are a lot of things to add on the bread.
Honey, homemade milk jam, olive oil, and butter.

(Ketchup is for scrambled eggs)
All of them are delicious, but after all, i want you to try homemade milk jam (also a salt).
In the gentle sweetness of milk jam, the "salt of Mataichi salt factory" made in Itoshima tightens the taste and has high original taste.
This is also sold in the bakery corner, so you can buy it.
It is also good to eat with olive oil on the bread simply.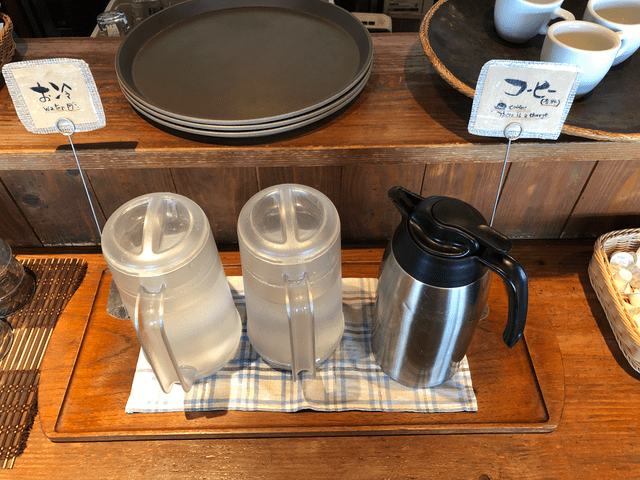 There is also tea and fruit juice, but the recommended is hot coffee.
The person who ordered it is free to refill the hot coffee, so it is possible to enjoy the conversation slowly.
If you pour a little, you can always drink a hot cup of coffee.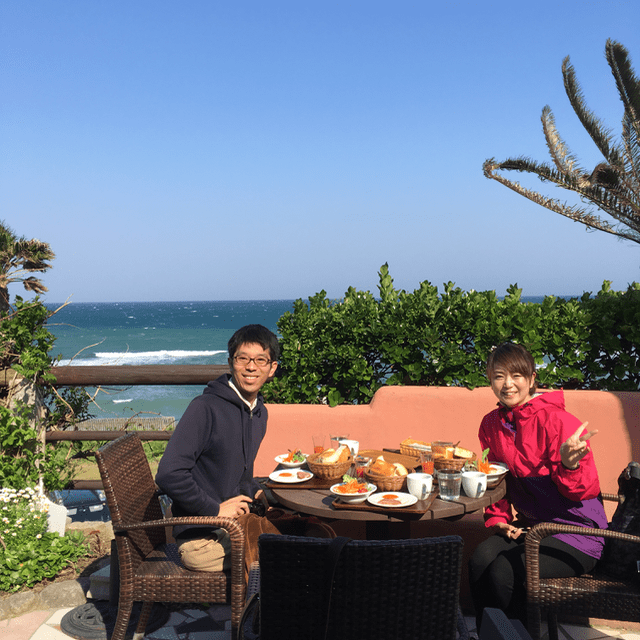 Sometimes we enjoy the morning at the current with our customers.
The weather is nice and it feels really good!
Fresh bread corner
When you finish eating, stop by the bakery corner at the end.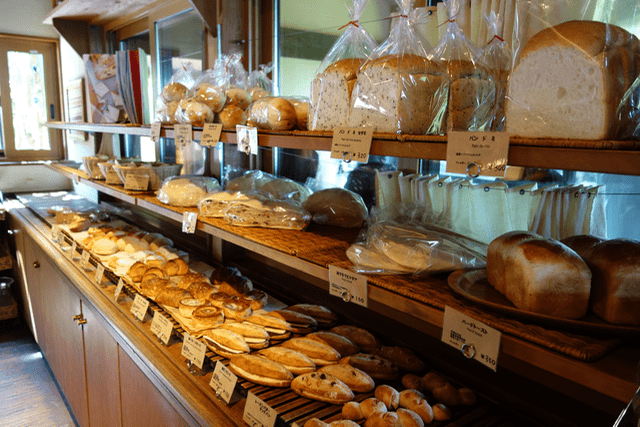 There is a line of delicious bread that has just been baked.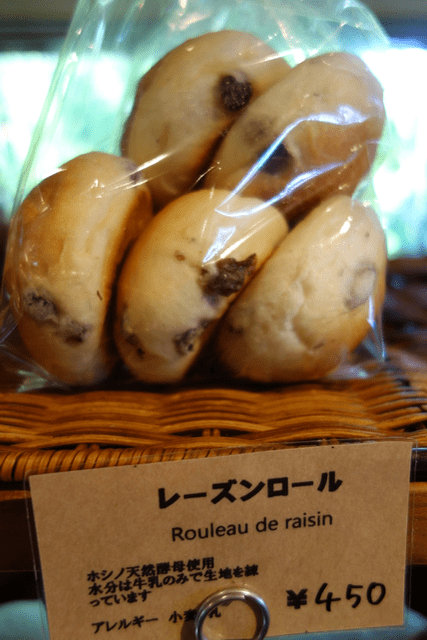 There are also breads you ate in the morning, so if you like it, it's good to buy it as a souvenir.
You can see that it is made of natural yeast from the display.
I think it's one of the standard routes to start the morning of Itoshima from a café and visit Futamigaura, Sakurai Shrine, and Mataichi salt factory.
Current morning, recommended.
Restaurant information
| | |
| --- | --- |
| | (*Information as of May 2019) |
| Name | Bakery Restaurant CURRENT |
| Opening Hours: | Morning/ 8:00-10:00 |
| | Eat-in/ 10:00-11:30 |
| | Lunch/ Weekdays 11:30-17:00 (L.O.16:00) |
| | Lunch/ Saturdays and Sundays and Holidays 11:30-19:00 (L.O.18:00) |
| Closed: | Wednesday, first Tuesday |
| Smoking or Non-smoking: | Non – smoking |
| Parking: | Prepared |
| Phone: | 092-330-5789 |
| Hp: | https://www.bakeryrestaurantcurrent-2007.com/ |
| Address: | 2290, Shima-nogita, Itoshima City |
| Map: | |
We will enjoy Itoshima tomorrow too!!

— The guesthouse to connect the world and Japan —
Itoshima Guest house Kotonoha
(糸島ゲストハウス 前原宿ことのは)

We welcome your reservation to stay.
Thanks!