Hello!
We are the guesthouse Kotonoha in attractive "Itoshima", Fukuoka where 6 million people visit for a year.
Thank you for visiting our site today!
There is the Japanese restaurant "ITARU" managed by Itoshima's famous salt factory "Mataichi no Shio".
It is also in Itoshima.
It is very popular because the dishes that the salt factory makes are very tasty.
Japanese restaurant "Itaru" operated by the salt factory
Lovely space of old farmer's house renovated
The salt factory "Mataichi no Shio" was at the western end of the Itoshima Peninsula, but the Japanese restaurant "Itaru" is in the south mountain side.
↓ Appearance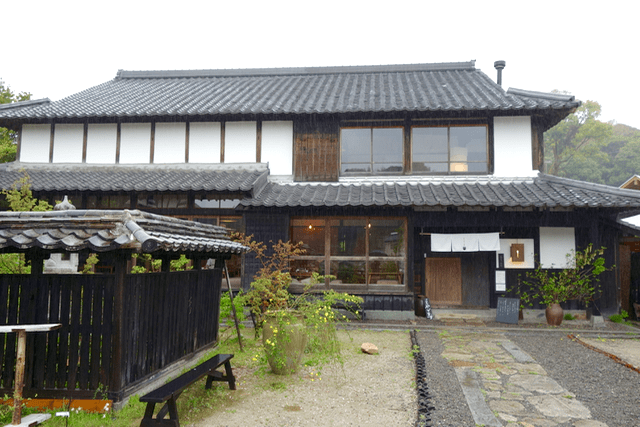 Built over 110 years ago, the farmer's house was refurbished.
It is outstanding large house.
Mr. Hirakawa, the salt owners, is originally a cook.
He thought there was no good salt, then he started working on salt.
Since he was originally a cook, I thought that he wanted to serve dishes with his salt.
It is Gohanya "ITARU" to provide the dishes.
On the same site, there is also the cafe "Sumi cafe".
↓ Signboard of the entrance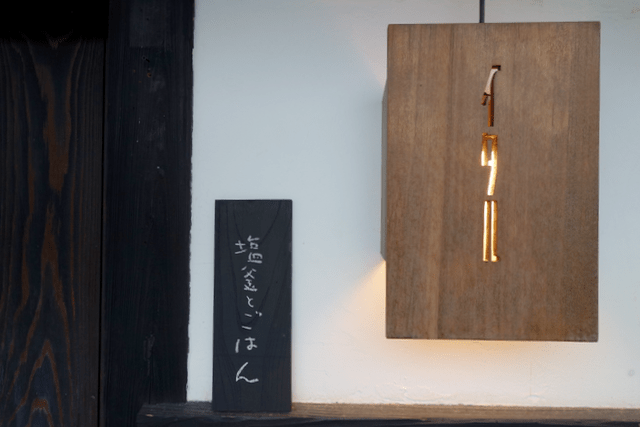 There is a stand in place with salt pot and rice. It seems that rice is cooking with a rice kettle!
↓An eating room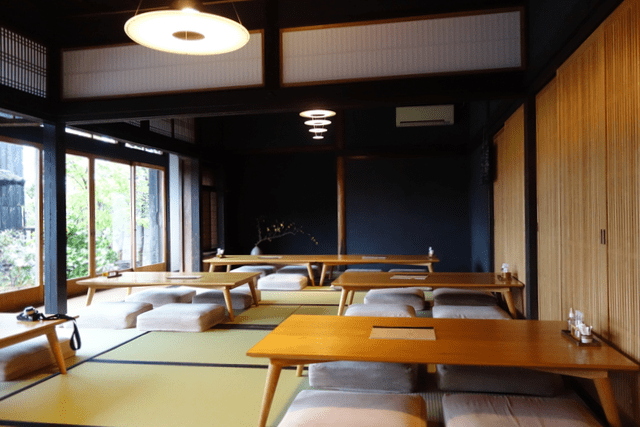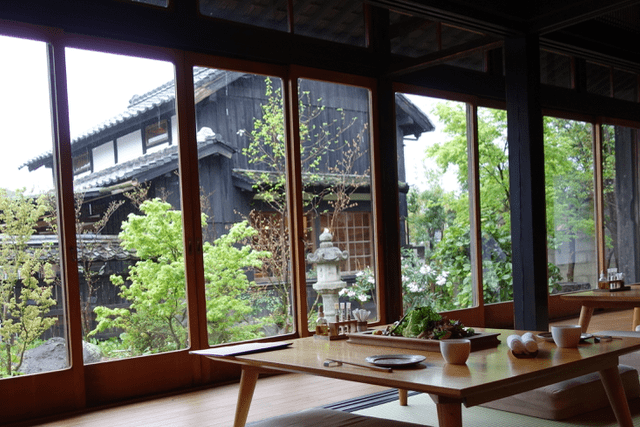 I was knockouted to the scenery where I can see greens from the big windows!
While incorporating the stylish Northern European taste in lighting and tables, the calm Japanese space is there.
Also counter seats and private rooms
The restaurant is larger than I expected, and various rooms are prepared.
↓Counter seats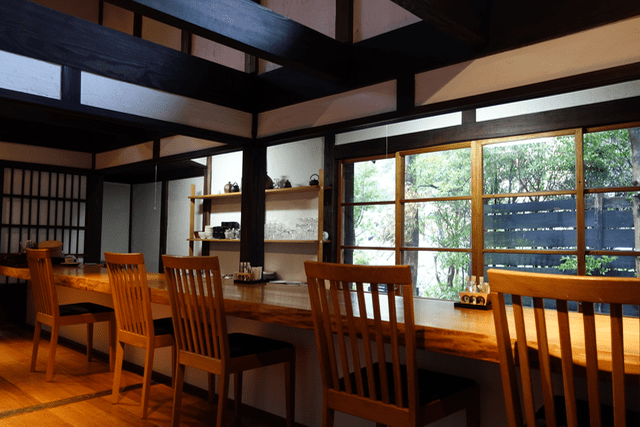 There is counter seats.
I think that it is easy to use even for one person.
↓ The upper part of the counter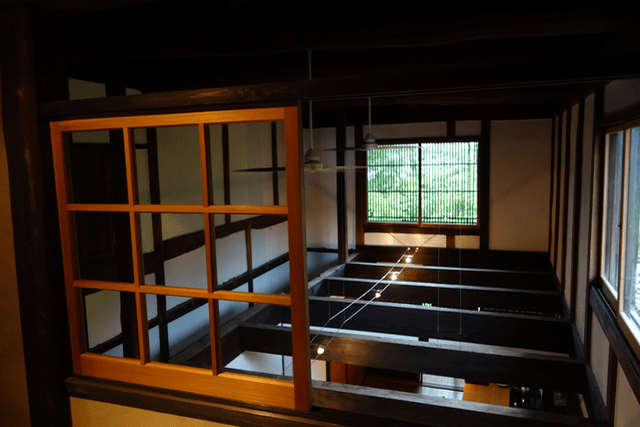 The top is the colonnade above the counter
You can feel the flow of good air. Probably,
On the second floor where I climbed the stairs, there was a private room with a good taste.
↓ Private room on the 2nd floor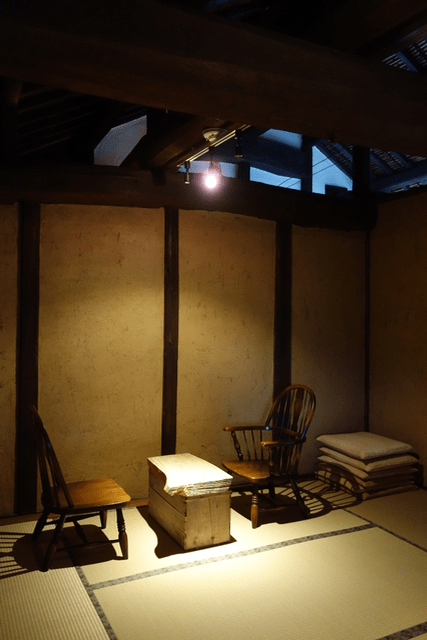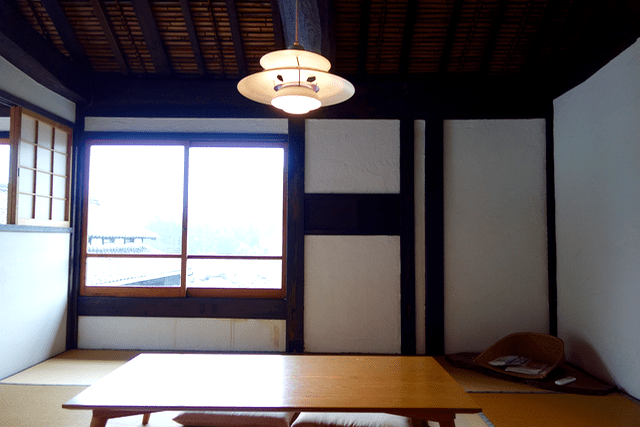 On weekends, it seems to be full, so I think that it is good to come earlier.
Reservation is impossible.
Menu & set meal
The menu of ITARU is basically three kinds of set meal.
↓ Menu table
Every set meal includes "vegetable salad, small dishes, Japanese pickles, and 'Hagama' rice (refill free)"!
Hagama is a big iron pot to make rice. It's so delicious.
The set meal of vegetables is 'tempura' of Itoshima's seasonal ones and meat is pork of River Wild of Ukiha City, Fukuoka.
And, the fish is sea bream which is grilled with salt pot.
It is called  "Shiogama-yaki".
It is a luxurious dish because it uses a lot of salt!
↓ Today 's small dishes and tempura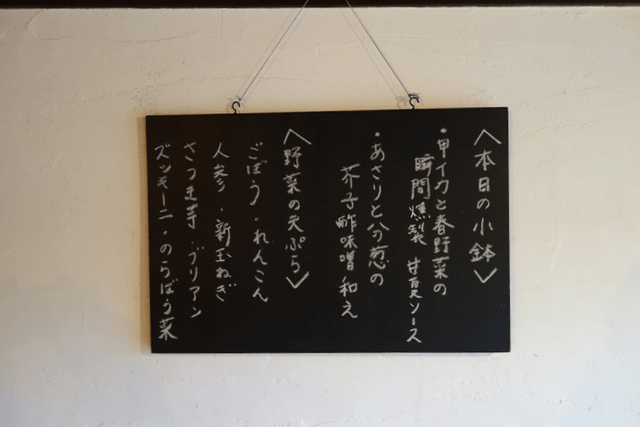 Today' s small dishes are written on the blackboard.
Tempura of vegetables also seems to have a different type.
↓ Three kinds of "original salt"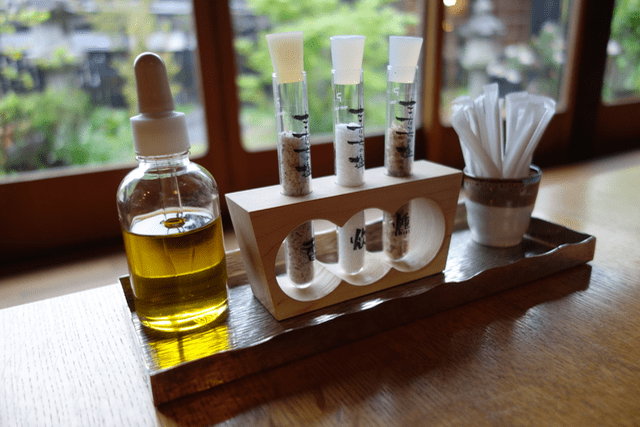 They prepare 3 type of salt for vegetable salads.
Incense (herb)
Boiling (cooking salt)
Smoke (salt)
Also olive oil is available.
It will be fun to just eat salad, changing the salt.
A set of set meals
↓ Vegetable salad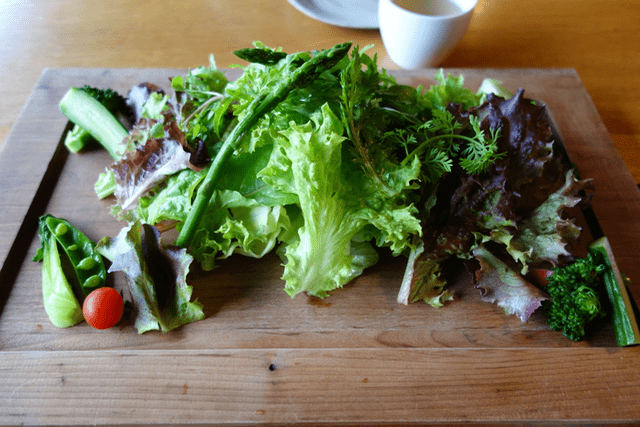 The salad is a heap! !
It was carried on a beautiful tree board.
All vegetables are fresh and crispy.
If you eat with salt, the taste is further complemented.
It is simple, but materials and seasonings are at a high level.
It is a luxurious way of eating.
↓ small dishes, soup, Japanese pickles, and Hagama rice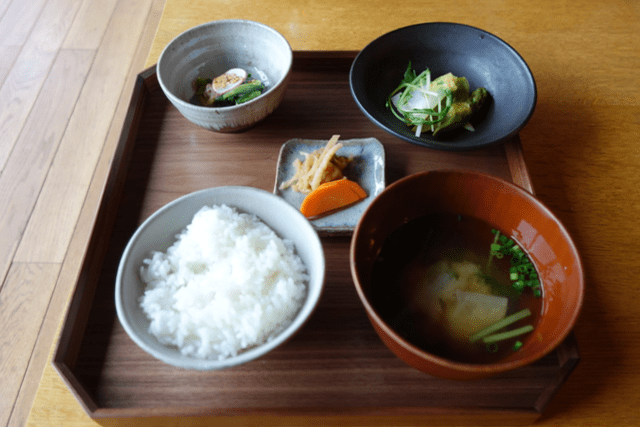 This is a Japanese basic cuisine.
1 soup and 3 dishes.
↓ A small dish "Instant smoked sweet summer sauce of squid and spring vegetables"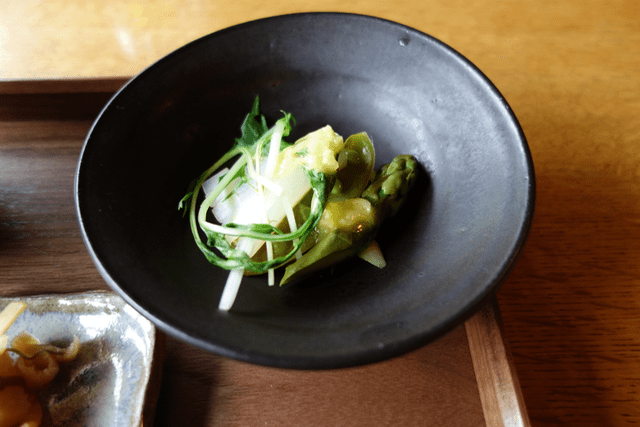 The sourness and sweetness of the sweet summer sauce is compatible with the bittersweet feel of spring vegetables.
Smell of smoke passes through the nose.
Delicious!
↓A small dish "clam and green onion with miso vinegared"
It is a very fresh taste with the deliciousness of the clams added to the vinegared miso of a clear flavor.
Delicious!
Satisfaction is already high before main ingredients are introduced, but the main is finally here.
Main appeared!
"Shiogama" grilled sea bream
It is grilled sea bream covered by salt.
↓ It is wrapped in a lot of salt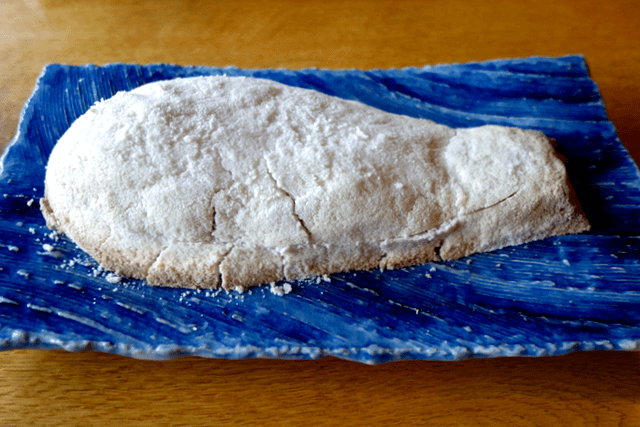 This visual is intense!
For a moment I thought it was a Japanese ancient King's tomb · · · haha.
Sea bream is hidden in this.
↓ Put chopsticks and take the lid.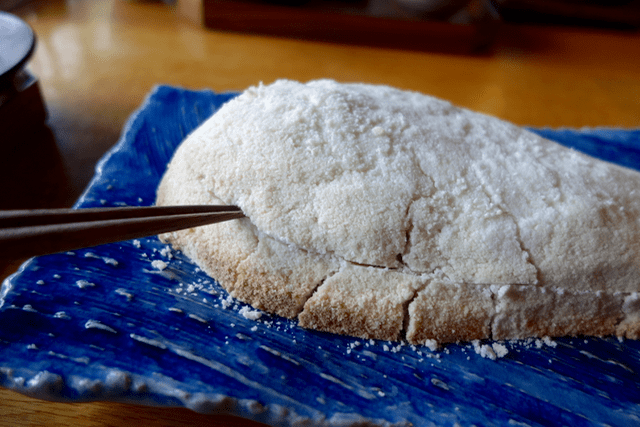 There is an explanation to eat it from the stuff.
When you put chopsticks in the notch, and you open the lid, turning it by hands.
Sea bream came out!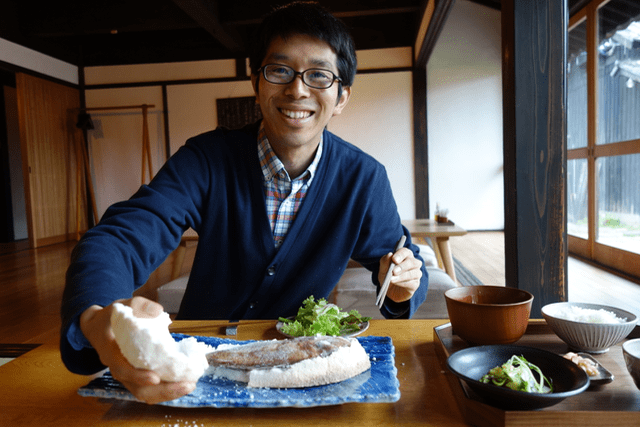 A sea bream came out!
↓ A sea bream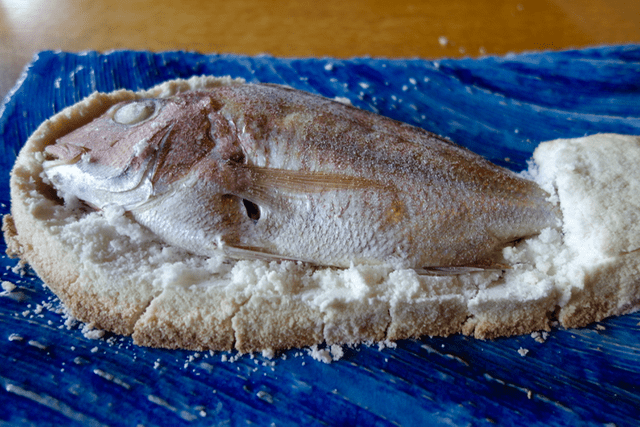 Oh. It was truly full of one fish inside.
There is an impression.
↓ The mass of salt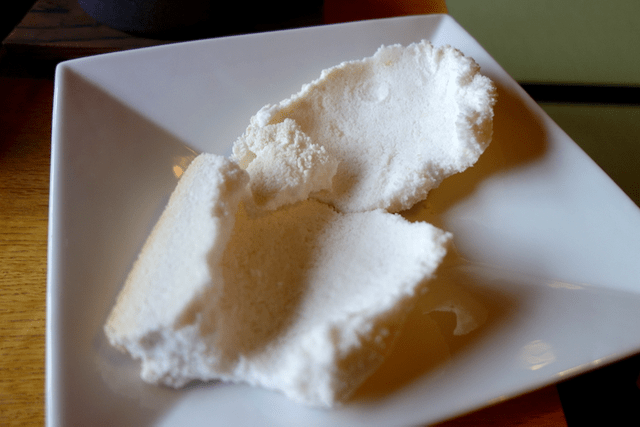 It is the amount of brilliant salt.
If the restaurant is not owned by the salt factory, it is impossble to offer it for the cost.
At first, I thought that it was salty.
However, after trying to eat it, the idea is overturned.
Just a nice salt!!
The taste of the sea bream is felt direct,
I do not need any other seasoning.
It makes me feel like I'm eating a sea bream that is just come from the sea with plenty of salt water.
It is like the taste of the sea.
This is good.
By all means, I want you to taste once.
Teppanyaki of pork
↓ River Wild Pork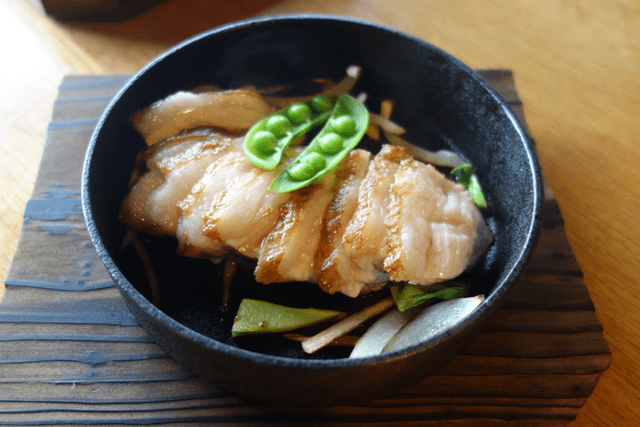 Excellent softness!
After all, it is delicious.
I understood why ITARU is very popular.
It's delicious and reasonable.
I would like to have tempura next time.
It is simple, but recommended for those who want to enjoy a premium Japanese lunch in Itoshima.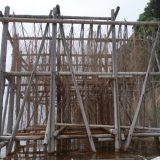 Hand made salt factory "Mataichi no Shio"
Restaurant information
Restaurant name: Gohanya "ITARU"
Opening hours:
Meals: 12:00-15:30 (L.O.)
Cafe: 14:00-17:00
Closed: Monday to Thursday
* Reservation is not possible
Address: 1454, Hon, Itoshima, Fukuoka
HP: http://mataichi.info/itaru/
Map:
(It is information as of May 2018 ※)
We also enjoy Itoshima tomorrow! !
— The guesthouse of Itoshima concierge —
Itoshima Guest house Kotonoha
(糸島ゲストハウス 前原宿ことのは)