Hello!
We are the guesthouse Kotonoha in attractive "Itoshima", Fukuoka where 6 million people visit for a year.
Thank you for visiting our site today!
Talk of January 2018, celebrating our grandmother 's birthday, we visited Ukidake Saryo : a Japanese kaiseki-style cuisine.
We could enjoy the wonderful Japanese food, feeling the seasonal hospitality!
Kaiseki restaurant which refurbished the old private house
The place is in Nijo-Yoshii, and it is close to the prefectural border with Saga.
The distance between the sea and the mountain is close, it is a rich natural place.
At the mountain side, Ukidake Saryo is there.
Appearance
Walking from the parking lot, we can see the beautiful outside wall of "Yakisugi(=Burned cedar board)" .
↓ Surrounded by mountains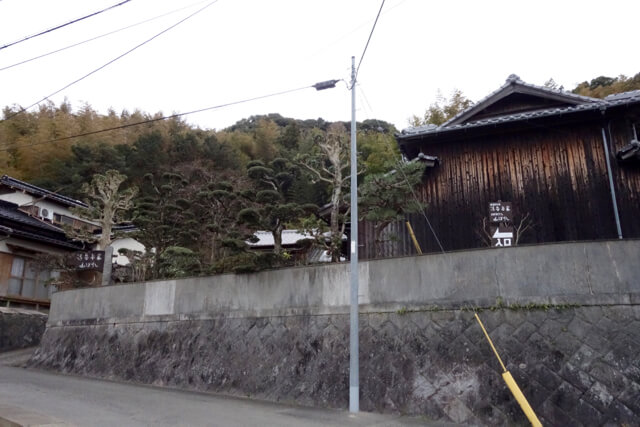 Going around the fine stone wall, we entered the site.
Ukidake Saryo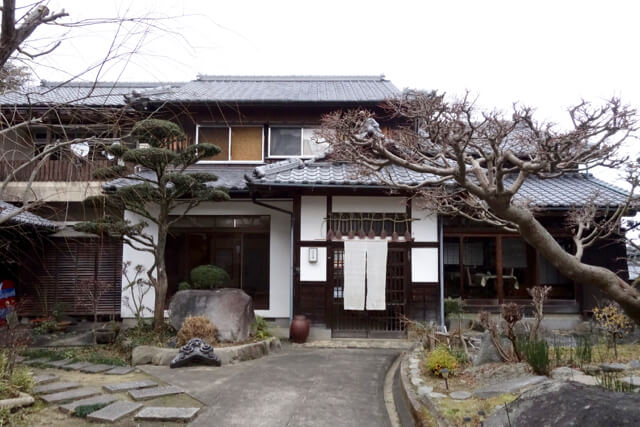 Omoya(=main house) is Kaiseki cuisine restaurant.
↓ Cafe Yamaboshi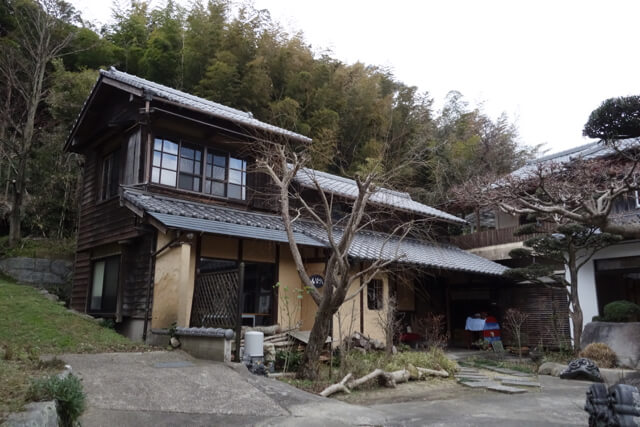 Next to the restaurant, there is the cafe Yamaboshi.
As of January 2018, the cafe menu seems to be offered in the restaurant space.
Interior view
There is a private room on the left of the large entrance and a salon is on the right.
↓ Entrance of the private room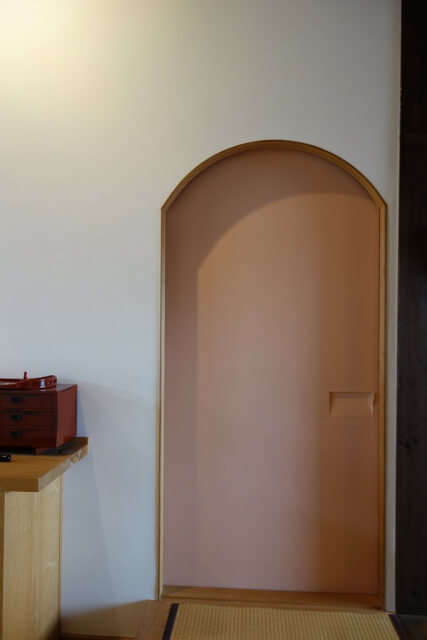 So cute sliding door with peach-colored Japanese paper.
It is also wonderful that the upper part draws a curve.
To just open it makes us excited.
↓ Decoration of the room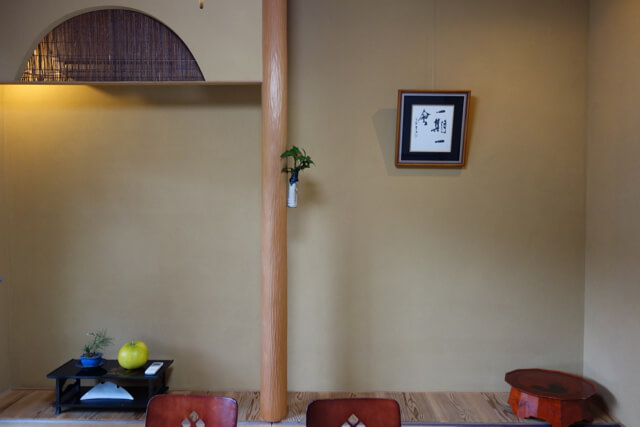 The private room is available for about 6 to 8 people.
Decoration is also wonderful.
The Chinese letter art of "Ichigo Ichie" is impressive.
It means it's important to cherish the meeting at one time.
The decoration is seasonally changed by the sensibility of the madam.
↓ Counter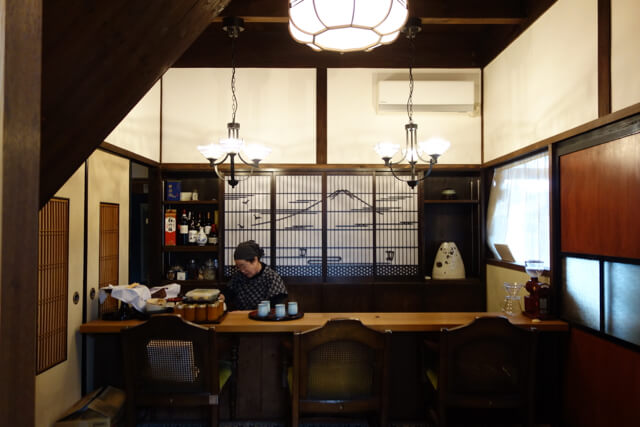 A staff are preparing for catering at the counter, but it is assumed to be used by one person or as a cafe.
It is good to have a cup of tea while talking to the madam.
↓ Salon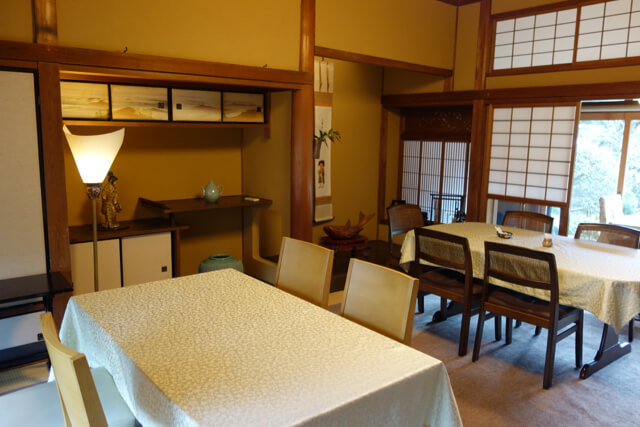 The salon has table seats in a Japanese style room.
The tablecloth is also elegant.
The taste of the kitchen in Kitakyushu
The Madam(Ms. Kobayashi) 's parents run a famous Japanese restaurant called "Koyo-an" in Kokura, Kitakyushu.
She took over the taste of "Koyo-an" and opend the "Ukidake Saryo" in 2006.
What is Kaiseki Cuisine?
Do you know what is the Kaiseki?
There was explanation of "Kaiseki" on the following site.
Kaiseki cuisine is actually born from the tea ceremony and it is meals served before tea drinking which is the main tea ceremony. It expresses "Wabi and Sabi" that is the heart of the tea ceremony as a dish, and it has three principles of "use seasonal ingredients", "make use of the material's taste", "do heartful
hospitality".
Reference: What is the difference between kaiseki and kaiseki cuisine?Actually the big difference is hidden!
Actually, Kaiseki cuisine is a hospitality dish for enjoying tea!
And it is a promise that you have rice at first.
After that, dishes based on Ichiju-Sansai(=1 soup and 3 dishes) will come out, but there is personality depending on the restaurant.
Seasonal meal
Kaiseki cuisine is not only delicious, but it is also characterized by the spirit of hospitality.
↓ Steamed rice with sea urchin, salmon roe and ginger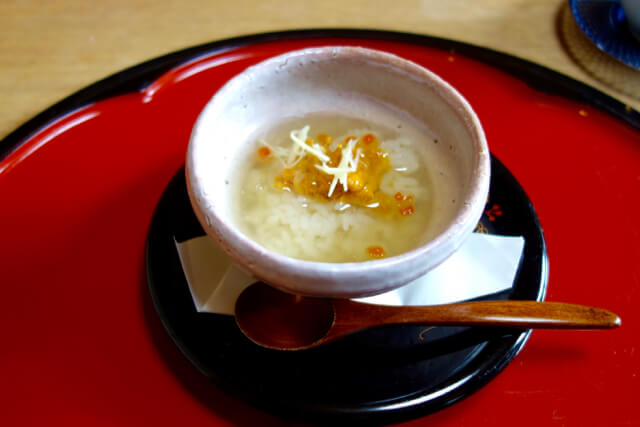 It is outstanding delicious enough to make us feel relief from the first item already.
This day was still cold in January, so hot rice with "Kuzu-an (=arrowroot hot jam)" was served.
My body warms up.
Then, next one was on the battledore.
↓ Tamba black beans, boiled red sea cucumber with Hoji tea, boiled Sazae, fried shrimp, and Yuzu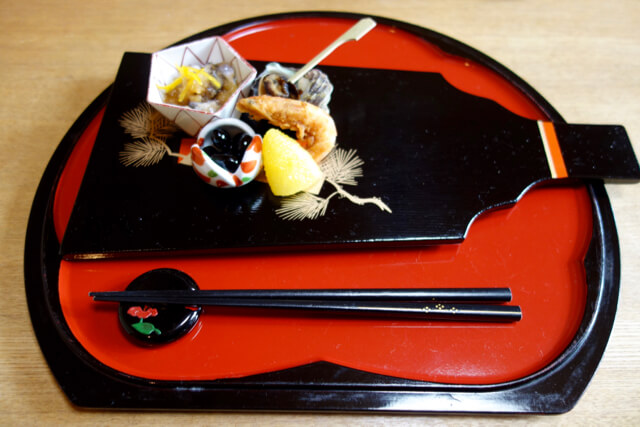 It will be gleeful atmosphere at once.
Especially red sea cucumber boiled with Hoji tea has a refreshing taste, removed the smell.
It is delicious.
Then, Yuzu(=Japanese citron) was spilled three times to remove the bitterness, and a grater is put on it.
It was very fun with the taste like eating citrus jam.
It takes time and effort.
Next one is soup.
Ebi Shinjo(=Dashi soup with shrimp dumpling)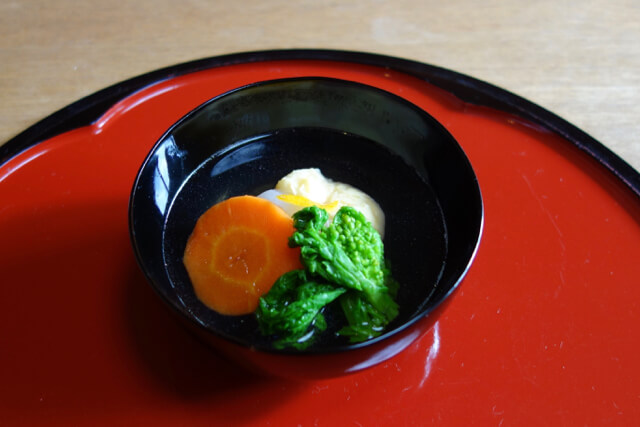 Since Dashi(=Japanese suop stock) is basic in all Japanese cuisine.
So it is said that you can understand the value of the restaurant when you have a soup like this.
Delicious!!
It is a refreshing taste like clarifying the body.
↓ Tortoise-shaped radish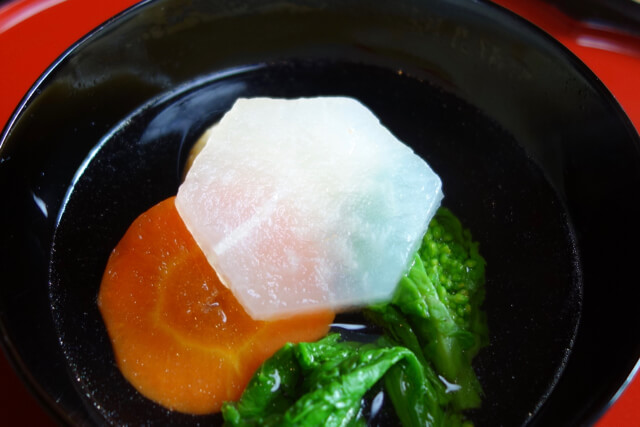 There was a radish that was hidden by canola blossoms and carrots and cut into hexagons.
It seems to be a tortoise shaped.
It is a little lucky stuff.
Fine consideration is wonderful.
Three layers "Kaiseki" box
There are various styles in Kaiseki.
This is the "Hako Kaiseki" which means the one offered with a box.
Delivered in "Warigo"
In Ukidake Saryo, the dishes was brought in 3 layers box which was called "Warigo".
It's rare, and you can often see it in Izumo, Shimane prefecture.
↓ 3 layers box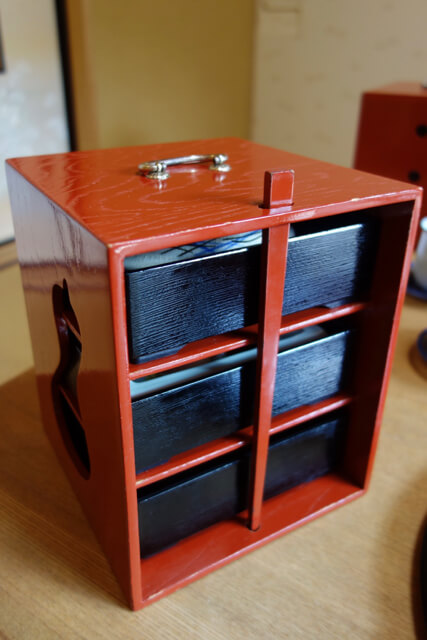 Inside, there were Japanese stew, sashimi and rice.
↓ Stew with homemade "Ganmodoki"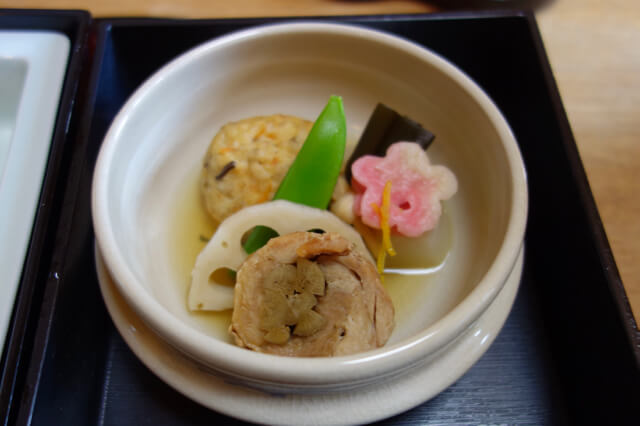 Ganmodoki is Deep-fried tofu and The dashi worked well.
It was tasty!
To make Ganmodoki, she used "Yamato potato".
↓ Fresh Sashimi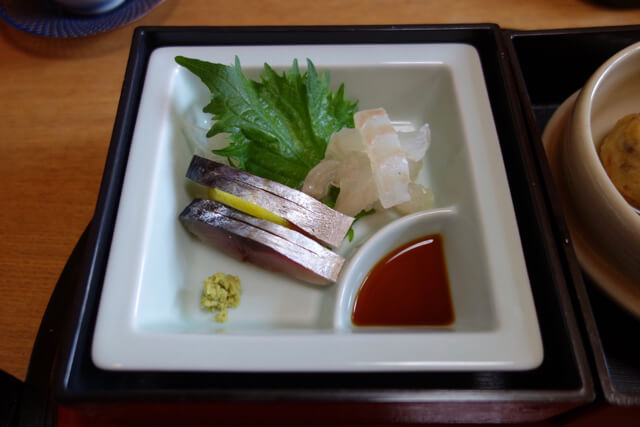 It is a fresh fish caught locally.
In Fukuoka, It is advantage that we can eat very fresh and delicious sashimi, because it faces the Genkai-Nada(=Genkai ocean) which is known as a very good fishing ground.
↓ Red rice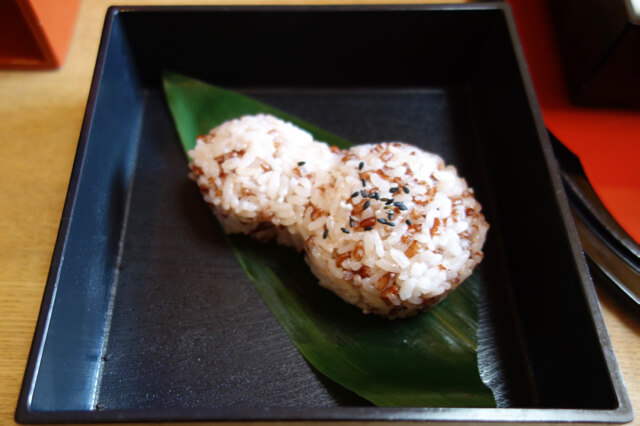 And it is red rice, shaped like a gourd.
Red rice is a millet which was eaten in general before.
It has high nutritional value and umami.
It is also a special product of Itoshima.
The next one is Kitakyushu specialty!
Kitakyushu specialty · "Nukadaki of sardine"
↓ Nukadaki of sardine and pickles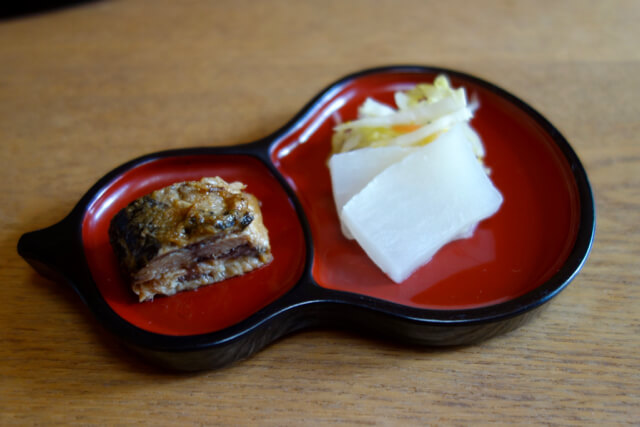 Speaking of Kitakyushu, Nukadaki is famous.
It means sardines boiled with rice bran.
Here we can enjoy original Nukadaki the madam took over from her parents.
So good!
You have to try it.
↓ "Ushio-jiru(=sea soup)"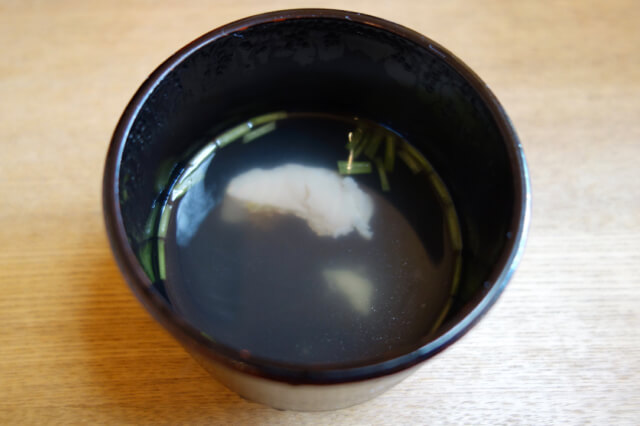 Ushio-jiru is made of the "dashi" of seafood.
It is simple taste.
Delicious.
Japanese sweets and tea
Well, it can be said as the main of "Kaiseki" dishes.
Japanese sweets and tea.
↓ Japanese sweet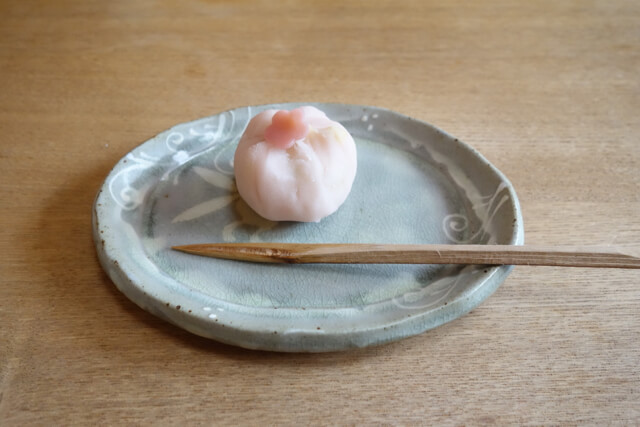 It is an elegant taste.
Matcha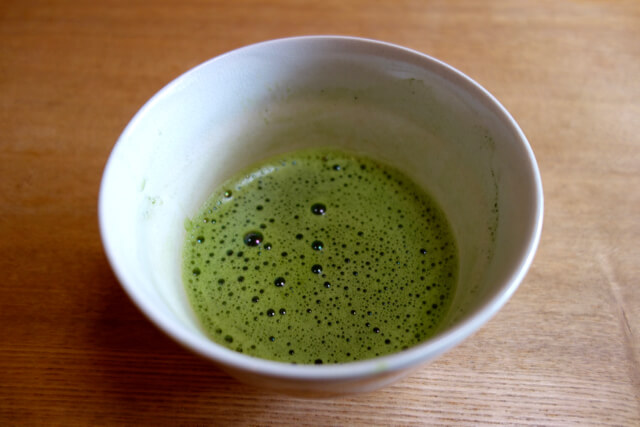 At last, it is the powdered green tea.
It was delicious.
↓ Memorial photography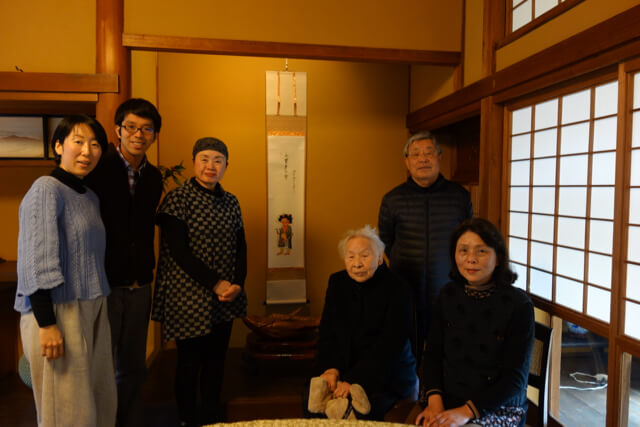 Photography together with Madam(=Ms. Kobayashi) (third from the left).
When you want to eat Kaiseki cuisine in Itoshima, please come to the Ukidake Saryo!
Restaurant information
Name: Ukidake Saryo
Business hours: day / 11: 30-16: 00, night / 17: 30-21: 30
* Complete reservation system for day and night till the previous day
* The cafe Yamaboushi is open from 11: 00-18: 00 (lunch 11: 30-15: 00), reservation recommended
Closed: Monday, Tuesday
Address: 1965, Nijo-Yoshii, Itoshima, Fukuoka
HP: http: //ukidake.jp/
Map:
(It is information as of January 2018 ※)
I will enjoy Itoshima tomorrow! !
** Accommodation with Itoshima Concierge **
Itoshima Guesthouse Kotonoha